The restaurant is furnished in traditional style and offers a quiet and relaxed atmosphere where all generations can convene to enjoy culinary experiences, which makes it a popular venue for a variety of themed and musical events, anniversaries, weddings, baptism celebrations, business meetings and friends and family meetings for various occasions.
Let us help you make your special moments even more special! We will do our utmost to make sure you will leave with many happy memories.
The restaurant is a product of family love and cooperation, and in keeping with tradition, we prepare a variety of original Slovenian dishes, some of which are still based on our granny Mici's recipes.
Vegans are also welcome. Upon request we are able to prepare a range of  selected dishes.
For meat lovers we particularly recommend our wild game dishes, for which Gostišče Tulipan is famous.
The restaurant can accommodate up to 40 guests while there is space for a further 35 people in the sunny conservatory. There is ample private parking and a bicycle shed, while we have also taken care of easy access for the disabled and elderly.
The Hunters' Room is intended for small and private parties, for those seeking a quiet and intimate atmosphere together with great food and drink.
The room can accommodate up to 20 people and is ideal for family and business meetings.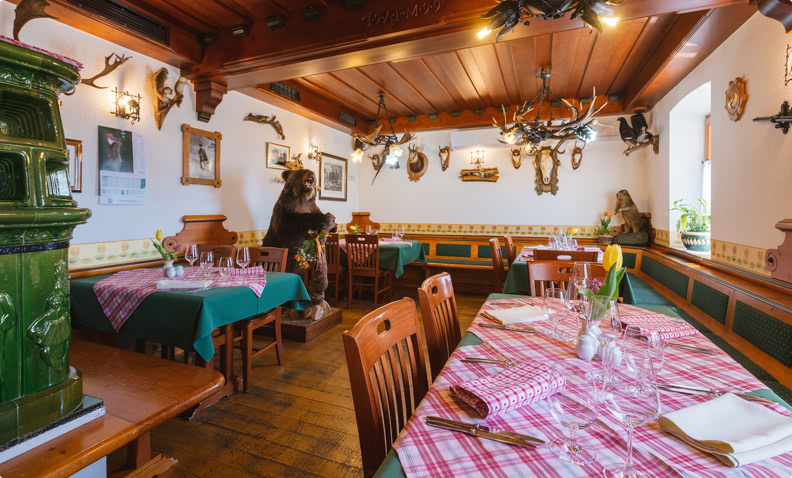 The Wine Cellar – the Tulip Chamber
A wide selection of wines adds to a special atmosphere in the cellar. The wine list includes superior quality Slovenian wines – red, white, rosé or sparkling wine – the choice is yours. Please feel free to ask our waiters for advice. They will be happy to suggest what wine to choose.
The wine cellar is an ideal area for special occasions and celebrations, tastings and other private groups and business meetings. It can accommodate up to 45 people.
Enjoying good food and drink in the shade of the lime tree in the garden is particularly enjoyable during summer. The patio area is suitable for family lunches and socialising with friends in summer evenings. The garden area can accommodate up to 50 people.
You can order several types of cake for various occasions. All cakes are made according to your personal wishes and taste.